Customised Residential Irrigation Design
At Water Dynamics, we provide a complete range of residential irrigation products and services to help you to efficiently utilise your home's water supply to create stunning outside spaces – all year round.
Whether you need sprinklers, pressure pumps, or a complete irrigation system, our team of Water Dynamics experts is here to assist you with a range of products and services that will help you achieve a dream lawn, gorgeous garden, luscious landscape, or complete outdoor oasis.
Designing a residential irrigation system involves careful planning and consideration of various factors to ensure efficient water usage and a healthy landscape.
Designing a residential irrigation system requires detailed initial planning that will take your end goals into consideration, as well as the various factors involved to achieve them. This planning is done to ensure efficient water usage, correct placement of irrigation systems and a solution that will meet, and exceed, your needs.
To get started, please provide some information below and one of our friendly irrigation experts will be in touch with you to organise a free consultation for your project.
Get Your Free Irrigation Quote Today – Transform Your Home's Landscape!
Are you looking to 'DIY' your custom Irrigation System? We can help! Follow the steps below to turn your vision into a reality – with advice from Water Dynamics!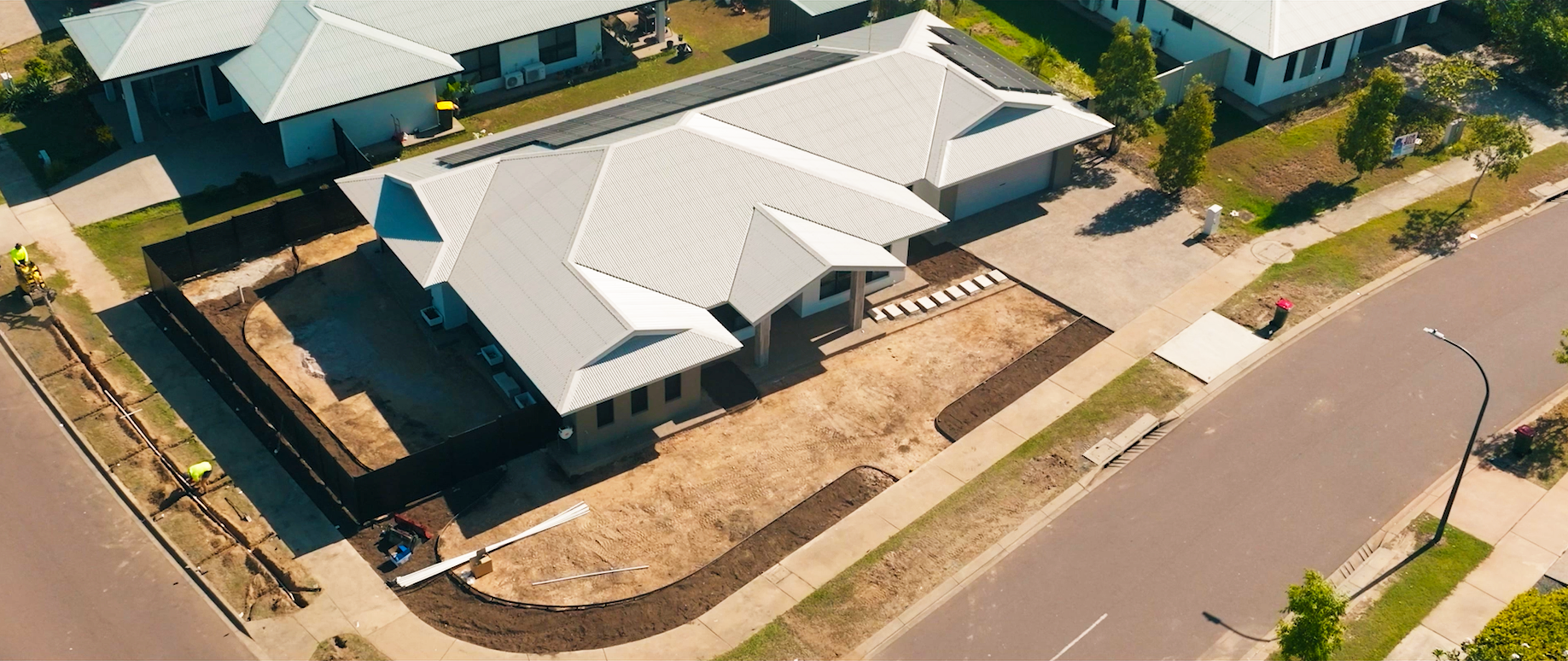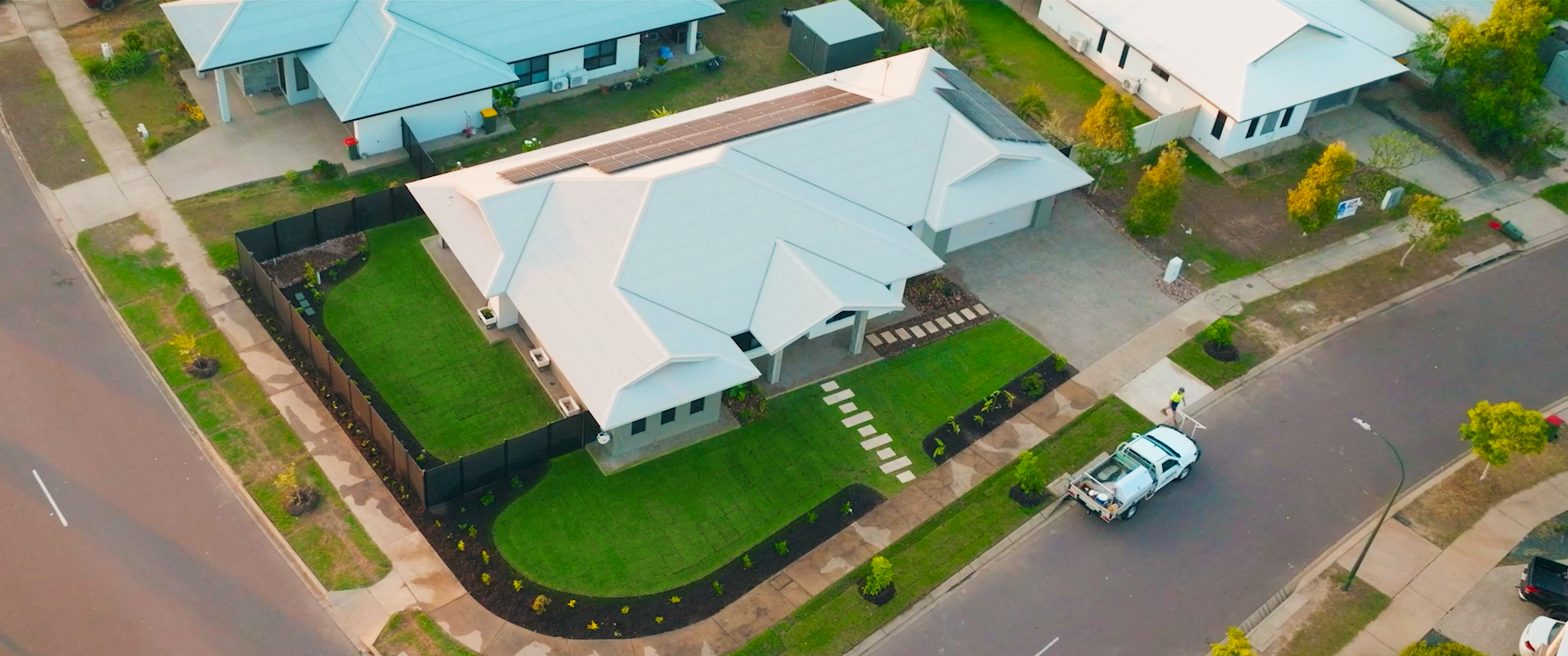 Are you envisaging a whole new look for your outdoor space? Want to transform it from a drab lawn to an tropical paradise? Water Dynamics have taken the time to outline some important key steps that will help you get started on your next residential project – whether you're planning a DIY project, or you're a seasoned professional landscaper. Simply follow the steps below to get started on your free irrigation quote from your experts at Water Dynamics:
Plan and Design: Start by downloading our design planner. Using the Planner, and a scale of 1:100, draw your basic ideas for your backyard design – ensuring everything is as accurately represented as it can be. Try to include any garden and lawn areas, paths, swimming pools, BBQ areas, driveways, and retaining walls. Don't forget to mark out water source locations, like garden taps, or water tanks. This plan is a great resource to help you visualise and execute your DIY project, or, it can be used to greatly assist a professional landscaper to bring your dream backyard to life.
Complete the Preparatory Questions: Consider and answer what you can from these very helpful preparatory questions that will help to plan your residential system – Residentail System Deign Preparatory Questions
Measure your Flow Rate: If you'd like to take an extra step, give measuring your flow rate a go. This can be done either with a 'Bucket Test', or by hiring a Flow and Pressure Tester from your local Water Dynamics branch (more information on this below).
Email your design: Send a copy of your design and / or the information you've put together to your Local branch
Await the quote for your dream outdoor space! Our friendly team will assess what you've provided and come back to you asap with either some follow up questions, or your custom quote.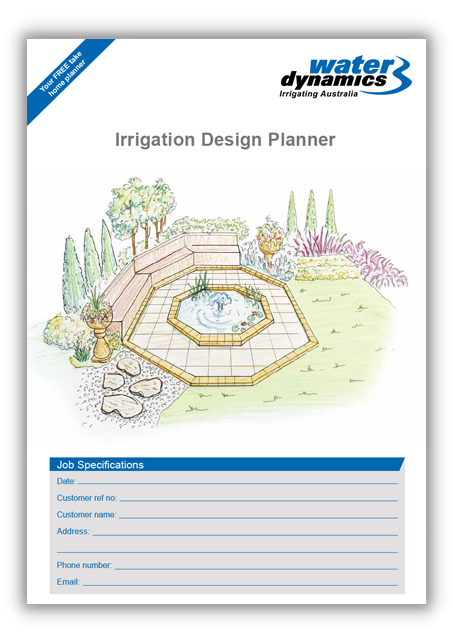 Start your home project today with ease by downloading our Irrigation Design Planner.
Not sure where to start ? You can also download our design preparatory questions to help guide your planning.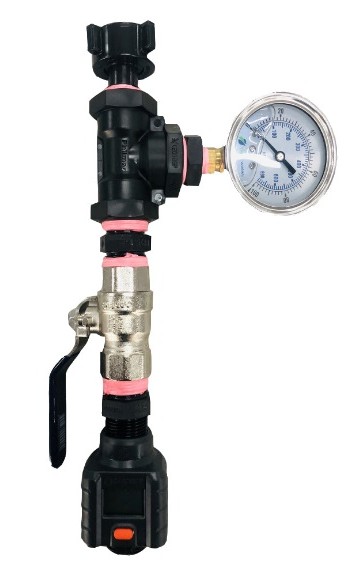 Hire a Flow and Pressure Tester from Water Dynamics
To help with Step 3 above, Water Dynamics offer Flow and Pressure Testers for hire. Our pre-assembled Flow test device allows you to test your flow rate at pressure of:
This Flow and Pressure testing is ideal for designing a pop irrigation system determining how many sprinklers will work efficiently on one Zone.
To hire a tester, please call us on 1800 571 812 or fill in the form we will get back to you.