Davey – Dependable Water Pumps


Water Dynamics supply and service Davey pumps for domestic, commercial and irrigation applications. With over 85 years of pump manufacturing experience across a range of domestic, commercial and irrigation markets, Davey aims to provide dependable, innovative water solutions to meet customer needs.
Our long-standing relationship with Davey enables us to provide our customers with competitive pricing across the entire Davey pump product range including:
Transfer pumps, including the Dynaflo600 series and the XF Series electric pumps
Pressure systems, including the Dynajet, HP and HS Series pumps
Sump and drainage pumps, including vortex pumps
Shallow and deepwell pressure systems
Firefighting pumps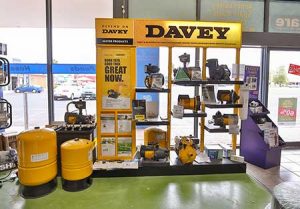 We stock an extensive range of Davey pumps in store, and are also able to order from the full Davey range with overnight delivery to most areas. The staff at Water Dynamics have extensive experience with Davey products, including pump selection as well as service and repairs across the full range.
Has your Davey Pump broken down?
We service all Davey pumps in our fully equipped workshops across the country, and are experienced with the common causes of Davey pump breakdowns. Our expert service technicians are able to dismantle, repair and test your Davey pump. With a range of spare parts easily accessible, we work to ensure minimal downtime and have your pump back up and running in the shortest timeframe possible.
Water Dynamics are proud to offer an extensive range of Davey products as well as quality, comprehensive pump services from installation to service and repair.
To find out more about pricing and availability of Davey products, contact us today on 1800 571 812.