AAP Industries – Valves and Steel Fittings for all Irrigation Systems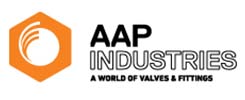 AAP Industries is an Australian owned and operated manufacturer of valves and steel fittings.
Established in Sydney in 1958, AAP Industries has grown from a small manufacturer of custom made metal components, to the manufacturer of a broad range of flanges, high-pressure fittings as well as steel and stainless steel pipe fittings distributed in Australia, New Zealand, Fiji and Papua New Guinea.
Water Dynamics' range of AAP Industry valves includes gate valves, ball valves and butterfly valves. Our range of fittings includes camlocks, flanges, gaskets and buttweld.
We utilise AAP's valves and steel fittings across many of our irrigation projects, while also stocking a large range in store that can be purchased for individual customer requirements.
For pricing and availability of AAP Industries products, call us today on 1800 571 812.