Your Local Bore Pump Service and Repair Experts
Water Dynamics offer a comprehensive range of bore pump services, from pre-assessment all the way to ongoing service and repair. Our teams in Darwin and Mount Gambier are bore pump service and repair experts, with dedicated service technicians specialising in a comprehensive range of bore and bore pump service requirements.
Bore Pump not Working?
Drop by or call us today and talk to one of our friendly staff with your bore pump problems. Water Dynamics offer a full range of bore pump repair and maintenance services carried out by our teams of skilled technicians. Our modern, fully-equipped workshops across the country are designed to undertake a range of pump and irrigation repairs.
There may be a range of reasons why your bore pump is not running at the desired output – from power and motor failure issues to leaks, contamination or worn out parts. Enjoy peace of mind with Water Dynamics' comprehensive bore pump services and repairs, with our teams delivering quality service to ensure your bore is back up and running in no time.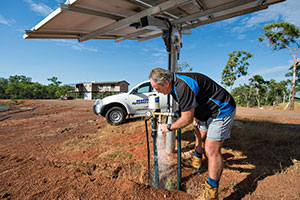 Bore Pump Maintenance
Besides undertaking routine bore pump maintenance, Water Dynamics offer a full range of bore pump services to get your bore pump running smoothly. Our skilled technicians can extract damaged bore pumps, repair and test pumps that have failed or decreased in performance, and then reinstall the pumps back into the bores. 
Water Dynamics works across various industries and has amassed decades of experience in agriculture, residential and government industries to bring our customers the best bore solutions and services. With a fleet of fully equipped service vehicle, our customers have the flexibility to utilise both on-site and in-house services to suit their individual requirements.
Our Mount Gambier branch services the South East of South Australia across to the Western districts of Victoria, boasting a 250km service radius. As one of the largest irrigation providers in the region, Water Dynamics Mount Gambier are experts in bore drilling and maintenance and boasts a team of 15+ experienced service technicians.
Solar Bore Pumps
Water Dynamics are your experienced solar surface and bore pump repair specialists. Whether your solar bore pump is used for watering livestock, crop irrigation, industrial water supply or even for residential purposes, Water Dynamics can help you keep your solar bore pump operating at maximum efficiency. 
With reliability and performance capacity of your solar bore pump reliant on the quality of your pump service, it is crucial you ensure your solar bore pump maintenance is up to standard. Water Dynamics can help service, repair and relocate your solar water pump as required. Our experienced irrigation technicians are also skilled in solar bore pump maintenance such as replacing PV panels.
Whether you have an urgent repair or are interested in preventative maintenance, call us today on 1800 571 812.