Quality Irrigation for Maximised Pear Production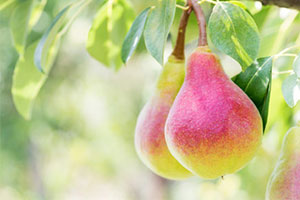 Australia produces an average of 100,000 tonnes of pears annually, with over 80% of production being consumed domestically. When combined, the apple and pear industry is the largest fruit industry in Australia.
As with all orchard grown fruit, pears require reliable access to quality water for irrigation. Water efficient irrigation systems such are crucial to modern pear orchards, particularly in Australia. Farmers must ensure their pear trees are provided with the right amount of water during key periods of the year in order to see reliable and quality yields. 
Water Dynamics can help design, install and implement fully customised irrigation systems for your orchards according to tree specifications, soil type, drainage and local climate. Our teams of irrigation specialists are well equipped with the knowledge and years of expertise to help you design and implement the best system for your pear orchard.
We help you with managing the entire irrigation planning and implementation process – from detailed site auditing to sourcing quality products, installing the irrigation system and continued on with after-sales service. 
Call us today on 1800 571 812 to speak with one of our irrigation specialists and find out how we can help you with your farm's irrigation.