Hard and Soft Hose Travelling Irrigators for Parks, Sports Fields, Pastures and Crops
Travelling irrigators are sprinklers fixed to a moving platform, ideal for applying water on small farms, pastures, sporting grounds and parks.
Travelling irrigators are uncomplicated systems that are easy to transport, operate and troubleshoot. They are available in many variations of size, speed, hose material and hose length.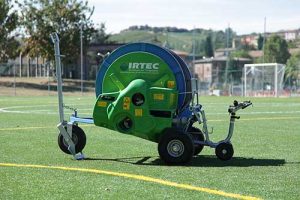 This method of irrigation can be particularly cost effective, while also being less manual than some irrigation methods.
Australian distributors of Irtec travelling irrigators
Water Dynamics is the Australian distributor of Irtec's hard hose travelling irrigators.
We stock the following Irtec ranges:
Garden series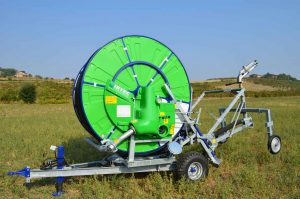 Model 50FBT / 170: 110mm hose diameter / 420m hose length
Model 40FBT / 130: 40mm hose diameter / 130m hose length
Agricultural series
Model 110G / 420ES: 110mm hose diameter / 420m hose length
Model 90G / 300C: 90mm hose diameter / 300m hose length
Like to know more about the advantages of travelling irrigators? Contact us today on 1800 571 812.