Benefits of Hydraulic Driven Centre Pivot and Linear Irrigators
Benefits of Hydraulic Driven Centre Pivot and Linear Irrigators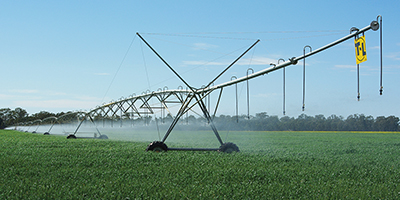 Continuous movement of these irrigators eliminates the 'spoking' effect caused by the stop-start operation of electrically powered irrigation systems, resulting in even water uniformity and improve crop production. The absence of start-stop operation reduces gearbox wear drastically resulting in a longer operating life and reduced repair and maintenance costs.
The benefits of hydraulically operated centre pivots and linear irrigators include:
1. Increased crop production
The continuous movement of centre pivot and linear irrigators result in no 'spoking' compared with an electric powered system, ensuring more even water distribution and therefore greater crop production.
The unique alignment control valve will stop the irrigator if it gets stuck or misaligned, with a sensor shutting down the water at the same time, avoiding crop damage.
2. Longer life cycle / low maintenance
Gearbox wear is drastically reduced resulting in a longer operating life due to the continuous movement of the T-L's hydraulic system, compared to the start/stop operations of an electric system.
3 gears instead of 1, extends the gear life and absorbs stress.
Gear drives are totally enclosed and directly coupled to the motor, eliminating additional gear reduction components, U-joints and other exposed moving parts.
System is constructed with high strength truss rods and a double tower-leg design.
Components are hot dip galvanised to prevent corrosion.
3. Safe operation
T-L's hydraulically driven centre pivot and linear irrigators eliminates the need for high voltage power on the system, keeping you safe from electrocution and eliminating the risks associated with lightning strikes. The most that will be utilized is 24 volts to power some of the control system options.
4. Industry leading warranty
T-L pivot irrigators are backed by an industry leading warranty. Planetary gearboxes are guaranteed for 8 years/24,000 hours, and worm gear drives are protected for 8 years/16,000 hours.